These step-by-step instructions will assist you in performing a factory reset on your Fritz!Box 7490 modem.
Before you start: Resetting your modem to its factory settings will remove any changes that you have made. This means that you will need to reapply these adjustments once the modem has been reset.
Method 1: Modem Interface
1. Connect to your Wi-Fi network, or plug an Ethernet cable to one of the free LAN ports on the back of your modem and the other end to your computer.
2. Open your web browser (Internet Explorer, Google Chrome, Mozilla Firefox, Apple Safari, etc.) and type in the address bar 192.168.178.1, then press 'Enter' on your keyboard.
3. When prompted enter the password you selected when you first accessed your modem interface.
4. Click 'System' from the left hand menu and choose 'Backup' from the options below.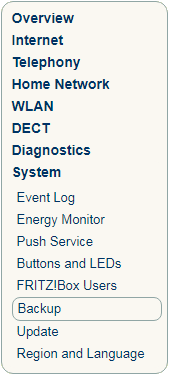 5. Select 'Factory Settings' and then hit 'Loading the Factory Settings'. This will restore your modem to its factory default settings. When your modem comes back online it will reset.

Method 2: Calling to Reset
1. Plug a phone device into either 'FON 1' or 'FON 2' ports of your modem.
2. Dial the following numbers '#991*15901590*'.
3. Wait for up to 30 seconds and your modem will begin to reset to its factory settings.