Within the Mobile section (underneath your homeline and internet) you'll find the mobile charges. This covers your mobile numbers, the base plan, any add-ons you've purchased, and usage charges not included such as; premium texts, picture messages, international calls (not to Australia), and if you run out of minutes. You can find your mobile charges by logging into My Orcon and checking your latest invoice.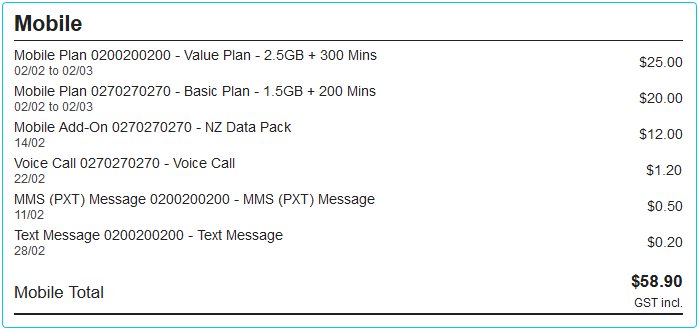 Discounts
Your mobile discount can be found in the Extras section. Click on the collapsible 'Other' drop down to find it – easy!

Billing
Our mobile plans are billed every 30 days, so slightly more frequent than monthly. This means that you will very occasionally get two bills on the same monthly statement – although this will be rare and only happens when your bill falls between the two billing periods for the same number.

If something isn't right with your invoice, get in touch and we'll help sort it out!
Need something else?
Check out our billing options, other explanations of your charges, or some commonly asked questions: